Do You Have A Problem With Nick Saban "Oversigning" Defense? I don't.
By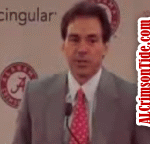 Do You Have A Problem With Nick Saban "Oversigning" Defense? I sure don't. If the NCAA is cool with the way things are done in Tuscaloosa and a huge number of colleges across America, then what is Kevin Scarbinsky crowing about? His argument in the Birmingham News article in link below http://www.al.com/sports/index.ssf/2011/02/scarbinsky_alabamas_dont-tell.html simply sounds like he is grasping at straws to find something wrong with the way scholarships are awarded at the Capstone. Even the national media is starting the fire under the stake... http://sportsillustrated.cnn.com/2011/writers/stewart_mandel/02/04/saban-oversigning/
With all the fuss, you would think that this is something that is new, however lots of colleges do this and have been doing it for years. Alabama is not a lone wolf.
Many people are blaming Coach Nick Saban for turning bad players out on the streets so that he can oversign the best talent. The truth is that Alabama creates opportunities for more players than it ever has forced out the door.
This really came to a boil recently when it was discovered that Les Miles had to force a player to quit that had been on campus for 2 months already. The player was OL Elliott Porter. Porter was a freshman offensive lineman from Waggaman, La., who signed with LSU last February. He qualified academically and started taking classes. After two months, he was told he had to go because there were only 25 spots on the roster.
Coach Saban explains the practices of grayshirting and oversigning like this...
There has been quite a bit written about oversigning, so to speak, but we have never gotten rid of a player because of his physical ability...

Any player that has left this program prematurely has created his own exit route. He's created his own conditions for leaving, if that makes sense. Whether they are academic in terms of not doing what he needed to do academically, whether it is some violation of team or school policy, some of those things we are not allowed to talk about...

First of all, we have never grayshirted a guy here who when he decided to come here didn't know the circumstances that we were going to take with him at The University of Alabama. The reason is sometimes academic, the reason is sometimes physical development and maturity, but never has a player not known [he might be grayshirted.] ... Now I don't think that is a bad thing. If we were not able to do that, those players would never have the opportunity to come here. So we are actually creating an opportunity for a guy to come here, not taking one away. That is why I think there is some disconnect out there and understanding about what grayshirting is all about.
I think as long as Alabama does the math and nobody is left in the cold, then it is cool. Even a medical scholarship for "borderline hurt" or forcing out already graduated ineffective seniors who really don't have to go the 5th year is fine with me. That is just life and the real goal in all this is to get a good college education & to win. Alabama is effectively allowing these players to do both.
Maybe I am a Bama homer with the crimson colored shades on... but I am cool with Bama's modus operandi under Nick Saban. So.... What do you think? Comment on my Facebook page!
License for phpBay Pro is invalid.
Visit Football Fanatics for Alabama Crimson Tide
Alabama Products For Sale:
Join Our
Alabama Crimson Tide Facebook Page!
Follow us on Twitter! AlCrimsonTide1
http://twitter.com/AlCrimsonTide1

Leave a Comment