Aubies Like War Blogle Will Be Sorely Disappointed Friday
By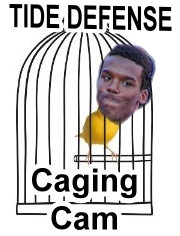 The Aubies are forming circles and beginning to chant... we will win, we will win, we will win. Alabama fans are ramping up for Rammer Jammer. The Iron bowl is around the corner.
The Auburn nation is flying high in its expectations. Many Auburn fans beleive they are going to end Alabama's home winning streak at 20. I have news to deliver to them...
Its just not going to happen.
Mr. War Blogle is one of those delusional Barners that like to drink the orange kool aid. (I am sure he is a great guy personally, but he is wrong about his football)
Listen to his by-line:

"Auburn grad (B.S. in C.S., 2004), loving husband, and new dad that believes Auburn should and could go undefeated in every sport, every year (if you don't think the same, you're not a realist, you're a pessimist). That's pretty much it."
http://www.warblogle.com/2010/11/22/football/the-first-look-alabama-crimson-tide-2/
Auburn will not come into Bryant Denny Stadium and take this game away from Alabama. It's our house. A stadium packed with 101K screaming Bama fans will make it unbearable for Cam Newton as the Crimson Tide defense reins in the Heisman candidate.
The Auburn defense is vulnerable where Alabama is strong... in the passing game. Auburn is only ranked No. 100 in pass defense in the country, giving up a whopping 244 yards per game.
With the smarts of Greg McElroy & the blazing speed of Julio Jones, it will be hard for the Auburn defense to defend. Alabama will throw early and often on an Auburn defense that is particularly susceptible to the pass.
Alabama's defense is particularly stout on the passing game, #7 in the country. Not only that, Alabama will be keying on Cam Newton. You won't see him getting into the secondary running free like in other games this year. Coach Saban will have CJ Moseley keying on Cam's every move. The defensive ends and outside backers will be responsible for preventing the option game from churning up yard.
I look for nothing but a great game... from Alabama that is. Auburn is certainly no pushover. However, I think Alabama is going to surprise the college football world by knocking Auburn off its roost. The Tide will play lights out football much like two years ago, and put a hurt on the Tigers.
War Bloogle said that if Auburn's "luck does run out they'll find another way to win."
He implies that Auburn doesn't even have to have to luck to beat Bama. I would like to Mr. War Bloogle & all his war chicken buddies know that Alabama football is not dead this year. Fact is, we are ALABAMA and we are going to finish out the year with PRIDE & with a victory... no matter what Mr. War Bloogle says!
I predict Alabama's defense will "Cage up the Cam" and roar to a overwhelming victory Friday. 34-7 Crimson Tide wins!
War Blogle will be sorely disappointed once again as the Auburn Tigers will once again not go "undefeated in every sport"...
License for phpBay Pro is invalid.
Visit Football Fanatics for Alabama Crimson Tide
Alabama Products For Sale:
Join Our
Alabama Crimson Tide Facebook Page!
Follow us on Twitter! AlCrimsonTide1
http://twitter.com/AlCrimsonTide1

Leave a Comment