Alabama In For A Treat This Weekend
By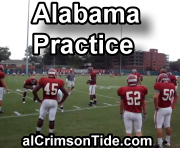 TUSCALOOSA, ALABAMA - Alabama's football team went back to practice on Wednesday afternoon this week in a 2-hour session at the Thomas-Drew Practice Fields. The Crimson Tide football team practiced for first time this week in pads since the throttling of Tennessee 41-10. Monday and Tuesday, Alabama practiced in shorts and shoulder pads in preparation for LSU nest week.
The rest could not have come at a better time. Alabama was definitely in need of rest so that the players could recover from nagging injuries and the team could re-group as a whole after taking on a full gauntlet of big-time football games. The span of games included one loss to South Carolina and a series of injuries that have been more of a hindrance than anything. Injuries like the broken hand of Julio Jones, ankle of Marcell Dareus, Upshaw, Menzie, and many others that just need the time to recover.
The task ahead is not easy. Alabama faces 3 out of 4 opponents in the rest of the schedule that are in the top 25. However, with the rest & time to re-evaluate their personnel & game planning, it should give Alabama just the boost it has been looking for.
The pep-in-the-step of the Alabama players is already evident with Preston Dial saying that it was a "good up-tempo day" at practice on Wednesday afternoon.
Yesterday, Alabama practiced but are taking Friday off for the weekend to get some more rest. The Tide will come back on Monday to resume its normal game-week practice routine as it prepares to travel to Baton Rouge, Louisiana to take on the #12 LSU Tigers.
It should be a good game, but right now, Alabama needs a long Halloween weekend off to rest. After all, its not a trick but a treat!
Roll Tide!
Alabama LSU Football Tickets For Sale
License for phpBay Pro is invalid.
Visit Football Fanatics for Alabama Crimson Tide
Alabama Products For Sale:
Join Our
Alabama Crimson Tide Facebook Page!
Follow us on Twitter! AlCrimsonTide1
http://twitter.com/AlCrimsonTide1

Leave a Comment