3 Steps To An Alabama Victory Over Penn State Saturday
By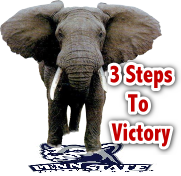 #1: Defensive Line Domination of The Line of Scrimmage - Alabama's defensive line needs to physically control the line of scrimmage against Penn State's huge offensive line. This will free up Alabama's linebackers to fly to the ball, plug the holes, and run laterally with ease.
Losing impact players from last year's domanant defensive line, such as Terrence Cody, Lorenzo Washington, and Brandon Deaderick, would impact most any other college team negatively. However, even with Marcel Dareus out of the game, players Like Damion Square, Josh Chapman, Kerry Murphy, and the rest of the big bruisers on defensive line will need to step up.
Alabama's defensive line coach, Bo Davis, had words of warning to people who consider this year's defensive linemen at Alabama any less effective than last year's, saying "Those guys, to me, I feel are just as good as the guys" from last year's defensive line.
With our young secondary, it is important to get a pass rush on Penn State's true freshman quarterback. If he gets rattled early, look for Bama to roll big time.
#2 Secondary Locking Down Coverage on PSU Receivers - Alabama has a brand-new secondary, for the most part, beyond Mark Barron. Even though Penn State has a freshman quarterback, Rob Bolden, look for them to attempt to exploit the perceived weakest area of Alabama's team.
Alabama has three brand-new starters in Robert Lester, junior college transfer DeQuan Menzie, and sophomore Dre Kirkpatrick. You will also see true freshman DeMarcus Milliner, come into the game often in nickel situations. Even though Penn State quarterback is a true freshman, there obviously has to be good reasons for his being the first starting true freshman quarterback in 50 years for Penn State.
Don't take it for granted that Rob Bolden is your typical freshman. Coach Nick Saban said of Penn State's starting true freshman QB Rob Bolden,
"You'd never know he was a freshman, that's for sure. He's got a very good arm, he's very accurate, he has a lot of poise," Saban said of Bolden. "They didn't have any game management issues, fumbled snaps, delay of games, the guy hard counts like a veteran and draws the other team off sides. He didn't make really any bad decisions, stood in the pocket, took a couple of licks and completed balls."
#3. Greg McElroy Plays Smart - Greg is applying to be a Rhodes scholar, so would you expect anything less from the cerebrial QB? However, being without the services of Mark Ingram, it might mean a little more pressure on the 5th year senior to perform at a higher level in front of the home crowd at Bryant-Denny Stadium. He just needs to play his normal ball control game and not make any fool hardy mistakes.
He doesn't need to try too hard. McElroy needs to make smart decisions by distributing the football without taking too many risks. When he does air it out to the likes of Julio Jones and Marquis Maze on post-routes, it needs to be so far down field that it stretches the defense and is only catchable by Alabama's wide outs.
If he can hit the running backs & tight ends early and often, it will help open running lanes for Trent Richardson & Eddie Lacy, in addition to making it easier to throw long.
OVERALL
Of course, there are other keys to winning, as it is a team sport. There are other aspects of Alabama's game that will be vital to victory over Penn State, such as the special teams unit & offensive line play, but if we play well in these top three areas of interest, Bama will win handedly.
Roll Tide!
License for phpBay Pro is invalid.
Visit Football Fanatics for Alabama Crimson Tide
Alabama Products For Sale:
Join Our
Alabama Crimson Tide Facebook Page!
Follow us on Twitter! AlCrimsonTide1
http://twitter.com/AlCrimsonTide1

Leave a Comment