Truth comes out on the arrest record of Nick Saban. He has a record!!! Here is a clipping from the paper..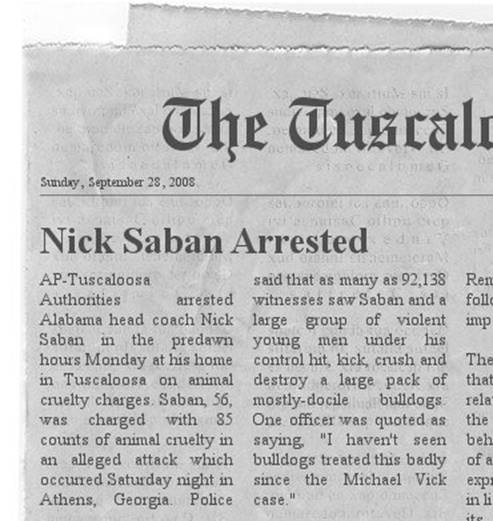 ---
In court documents filed two years ago, authorities state that they arrested Alabama head coach Nick Saban in the predawn hours Monday, Sept 28, 2008 at his home in Tuscaloosa on animal cruelty charges.
Saban, 56, was charged with 85 counts of animal cruelty in an alleged
attack which occurred Saturday night in Athens, Georgia.
Police said that as many as 92,138 witnesses saw Saban and a large
group of violent young men under his control hit, kick, crush and
destroy a large pack of mostly-docile bulldogs.
One officer was quoted as saying, "I haven't seen bulldogs treated
this badly since the Michael Vick case.
----
Of course... All of the above is not literally true, but it sure was funny! This was a story that was fabricated as a rub-your-nose-in-it jab at the Georgia fanbase. I will never forget the butt kicking we gave Georgia that night! It was the night that the lights went out in Georgia and the fans wore black to see the funeral!
We don't play Georgia this year unless it is in the SEC Championship, but it would be fun to get them there and spank some more bulldogs!
ROLL TIDE!
License for phpBay Pro is invalid.
Visit Football Fanatics for Alabama Crimson Tide
Alabama Products For Sale:
Join Our
Alabama Crimson Tide Facebook Page!
Follow us on Twitter! AlCrimsonTide1
http://twitter.com/AlCrimsonTide1

Leave a Comment