It's Not Long Now! SEC Media Days Start Tomorrow
By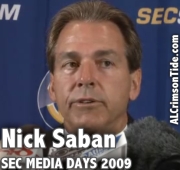 Time to break open the playbooks from last year's coach-speak line of clichés! It's SEC media days time once again in the Hoover Alabama. First on the podium will be none other than Nick Saban.
The yearly event prior to fall football camp in recent years is almost been like a circus. Some people even have said that it is like a New Year's Eve fireworks show for college sports.
Every year the lobby at Winfrey Hotel in Hoover Alabama seems to get packed with fans hoping to see players and coaches of their favorite teams up close.
Alabama fans are always leading the pack and this year will be even bigger with Alabama taking home a national championship and a Heisman Trophy. You can bet the Alabama fans will be there in full force to see Nick Saban and Mark Ingram and crew tomorrow as the first team to speak.
There is expected to be over 900 media members tomorrow. This is amazingly double the number that was there only four years ago. Much of this has been due to the proliferation of online media outlets.
Each of the football teams will have their head coach speak as well as three other members of the football team. This is an increase from the two members that has been brought to media days in the past.
You should be able to hear a lot of the same story from each of the coaches that you hear every year. Things like,
"Everyone starts the year undefeated..",
"This is a new year.."
"Our team is untested.."
"We are excited about the upcoming year.."
"Our team has dramatically improved since last year.."
"We have a new cast of football players that will have to prove themselves.."
You'll hear all this and a lot more from each of the coaches and players. However, the fans eat this stuff up every year. When SEC media days comes around every year, and when it does, it signals to fans that its not long until fall football camp. Fans get pumped. I know I do.
Then there are the controversies and surprises that always seem to get blown out of proportion and the media but is load of fun! Take for instance, Tim Tebow not getting a vote from one coach (Spurrier) last year. There was a big media ruckus over it because former Florida gator coach did not vote for the "best quarterback" to ever walk through the doors of the Winfrey motel! lol He was good but get real.. it wasn't that big of a deal! Fast forward to the end of the year and Alabama made him cry. Maybe he didn't deserve that last vote!
Former football coach Phil Fulmer in 2004 also had controversy when he didn't show up to SEC media days due to trying to elude a subpoena in Alabama. The very next year, they showed up after being fined 10 grand the year before..and oh by the way, he did get a subpoena as he walked in the front doors!
Look for Mark Ingram to be a very popular player tomorrow. Maybe the Alabama offensive line should block for him as he approaches the podium! It will be a throng of people wanting to be near the record braking tailback from Alabama. Journalists will be falling over each other trying to get at him. Same thing with Nick Saban, Greg McElroy, and Dont'a Hightower.
Florida will also be tomorrow. Should be very interesting in Hoover tomorrow to say the least!
SEC Media Days run from July 21-23. Here is the schedule.
WEDNESDAY, JULY 21: Alabama, Florida, Mississippi State, Kentucky.
THURSDAY, JULY 22: Arkansas, Georgia, South Carolina, Vanderbilt.
FRIDAY, JULY 23: Auburn, Tennessee, LSU, Ole Miss
ROLL TIDE!
License for phpBay Pro is invalid.
Visit Football Fanatics for Alabama Crimson Tide
Alabama Products For Sale:
Join Our
Alabama Crimson Tide Facebook Page!
Follow us on Twitter! AlCrimsonTide1
http://twitter.com/AlCrimsonTide1

Leave a Comment