Spencer Region Decommits From Auburn, Considering Alabama Once Again
By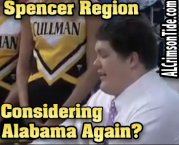 After all the hubbub about the highly rated offensive lineman, Spencer Region (of Cullman, Alabama), choosing Auburn over Alabama, apparently he is thinking much better of that infamous choice.
Spencer Region is a very big offensive lineman who is highly recruited across the nation are. He is now looking hard again at schools like Alabama, Texas, in Georgia as well as Penn State and Wisconsin (while still keeping Auburn on the back burner).
One of the reasons that he is de-committing from Auburn and opening up his recruiting once again is due to the offensive style of football that he likes to play in.  He said that he likes to play "smash mouth football" and that "I'm not sure that Auburn's offensive scheme would be the best fit for me."
No doubt that he ate all the meat and potatoes that his mama cooked growing up.  He is a big boy at 6ft 6in and 340 pounds. He is a very strong offensive lineman who can bench 355 pounds and squats 540 pounds.
A lifelong Alabama football fan, the February commitment to Auburn surprised many. Just a month after publicly committing to Auburn, Region was spotted at the University of Alabama spring football practice and it now appears to have buyers remorse in choosing Auburn. 
Spencer Region started receiving a lot of attention after his junior season when he recorded 105 pancake blocks on the opposition like a man among boys. Considered one of the top offensive lineman in the nation, Region has been named a Under Armour High School All-American.
Regardless of his youthful mistake of choosing Auburn first, if he chose Alabama, he would still be brought in with open arms and accepted by the Alabama nation as one of our own.  Some people may not see it this way, but I feel like most real Alabama fans would like to see this big country boy from Cullman, Alabama opening big holes for the Alabama backfield and pass protecting in the near future.
Visit Football Fanatics for Alabama Crimson Tide
Alabama Products For Sale:
Join Our
Alabama Crimson Tide Facebook Page!
Follow us on Twitter! AlCrimsonTide1
http://twitter.com/AlCrimsonTide1

Leave a Comment