Former AU Full-Back Calls Out Nick Saban; Former Dolphin Defends Him
By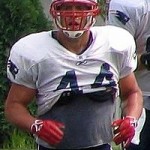 Former Auburn full-back and Miami Dolphins player Heath Evans
called out Nick Saban on a Florida radio station telling a story about Nick Saban while he was a coach with the Dolphins. According to Evans, Saban ignored a Dolphins player when he got sick on the field.
The Palm Beach Post is reporting thatt, Evans said Saban was cold and callous when offensive lineman Jeno James vomited and collapsed after a 2005 training camp practice in the brutal South Florida heat.
"Myself, about four other lineman are trying to carry him from the locker room, to the training room. Obviously it's a moment of panic.
"We don't know if this guy's going to die," said Evans, cut by the Dolphins six weeks into the 2005 season.
"Nick Saban literally just starts walking in, steps over Jeno James convulsing, doesn't say a word, doesn't try to help, goes upstairs.
"He showed no human emotion for one of his best players. He literally stepped over him when four or five grown men are trying to carry Jeno to the training room."
But former Dolphins Safety Yeremiah Bell who was on that same team, defended Saban.
"I think it was a lot worse than coach Saban knew," Bell said of James' condition, which was caused by dehydration brought on by gastroenteritis. "I just don't think that we, us as players, even knew how bad it was."
Bell continued to say Saban showed up at the hospital less then an hour later and stayed passed midnight.
"It made me feel pretty good about this team to see my head coach there," James.
I respect Heath Evans for his charity work he does with abused children, so it baffles me that he would bring this up six years later other then having sour grapes.
Sour grapes because his college team who are the defending national champions, got their butts kicked two weeks ago and no one is paying them any attention.
Who knows what he reasoning was, but it made Evans look more like the jerk then Saban.
Share
Visit Football Fanatics for Alabama Crimson Tide
Alabama Products For Sale:
Join Our
Alabama Crimson Tide Facebook Page!
Follow us on Twitter! AlCrimsonTide1
http://twitter.com/AlCrimsonTide1

Leave a Comment