Did the Game of the Century Live up to the Hype?
By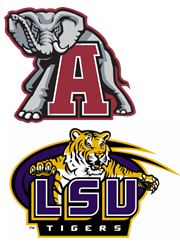 Now that the "Game of the Century" is over, people have been asking the last few days did it live up to all the hype.
I think it did, and most of America did too. According to the ratings that came out Sunday night, this was the second highest ranked college football game on CBS in over 20 years since Miami faced Notre Dame I believe in 1989.
That's not only a compliment to the SEC, but it is a compliment on how football is played down here. No there wasn't a lot of scoring in this contest, but as one writer pointed out today that doesn't mean it wasn't a good game.
This was as it was supposed to be; a defensive struggle. I heard ESPN's Rod Gilmore basically state that if Stanford or Oklahoma State played against LSU or Alabama this would have been a better played game because of the quarterbacks.
I don't know what Gilmore was thinking, but what is it that makes him think that Andrew Luck or the OSU qb would have any better luck then the quarterbacks playing against each other Saturday, not to mention the fact that more then likely both Bama and LSU would be playing against inferior defenses in Stanford and Oklahoma State.
The fact of the matter is, the SEC put on a show Saturday which had everyone on their sights until the end, because we knew one play could make the difference and that my friends is exciting football.
ROLL TIDE
Share
Visit Football Fanatics for Alabama Crimson Tide
Alabama Products For Sale:
Join Our
Alabama Crimson Tide Facebook Page!
Follow us on Twitter! AlCrimsonTide1
http://twitter.com/AlCrimsonTide1

Leave a Comment