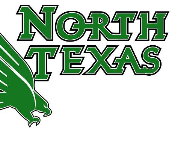 Don't take the North Texas Mean Green lightly. Just remember...they beat Tennessee.
North Texas actually did beat Tennessee, but the year was 1975, and the Mean Green have not defeated an S.E.C. team since that day 36 years ago. Through its history, North Texas has played 35 games against teams from the S.E.C., and has won a grand total of 3.
The good news for North Texas is that they have a new coach, a new 80 million dollar stadium, and a new attitude in the program. They also boast some excellent players. Kick returner Brelan Chancellor leads the nation in all purpose yards, and their tailback Lance Dunbar will soon become the leading rusher in school history.
Unfortunately, there is also plenty of bad news. The Mean Green has played two games and lost both of them. Their defense gave up a whopping 690 yards to the University of Houston. That's not 690 yard for the season so far; that is the yardage for 1 game.
Watching game footage of the North Texas team will quickly reveal the problem: they do not tackle well. On both defense and special teams, the missed tackles are clearly the issue with this team. Star tailback Lance Dunbar has been held below 100 yards in each game, and one reason is that the offense has been playing from behind and has been compelled to pass much more than the coaches might prefer.
Remember Penn State
No...not the Penn State game last Saturday. The Penn State game to remember occurred in 1994, when the Nittany Lions were ranked 2nd in the polls and played the lowly Indiana University Hoosiers. Penn State blew out the Hoosiers, and Coach Joe Paterno called off the dogs. The Nittany Lions backups gave up several scores, and Indiana came back to within one score when the game ended. Many poll voters, unaware of the game's details, saw the close score and dropped Penn State from the number 2 spot. 
Ultimately, that drop prevented an undefeated Penn State from playing for a national championship.
Alabama should beat North Texas Handily, but the lesson is clear: the voters are watching.
Prediction: Alabama 55, North Texas 6
Share
Visit Football Fanatics for Alabama Crimson Tide
Alabama Products For Sale:
Join Our
Alabama Crimson Tide Facebook Page!
Follow us on Twitter! AlCrimsonTide1
http://twitter.com/AlCrimsonTide1

Leave a Comment